VICTORY THROUGH VERSATILITY
Drive performance by reaching the right audiences when they're most engaged.
OPTIMIZE YOUR GOOGLE DISPLAY ADS.
Your ads should drive sales and build your brand. Simply sending traffic to your site isn't enough.
If you're not reaching the right audience, you're simply setting up a billboard and letting people drive past it. What you need to attract is a qualified, relevant audience that is already interested in your brand.
Through ad targeting and distribution technology, Impressive unleashes optimized Google banner ads onto the right audience, at the right time. Bringing you dollars, not just impressions.
Maximize conversions and your ROI using Google display advertising.
GET A FREE QUOTE
Get There Before your Competitors.
The Google Display Network (GDN) puts you in control of when your ads are shown.
Grab a user's attention before your competitors do to give yourself that vital competitive advantage. Or, use remarketing to remind a customer why they were interested in your products or services.
We can strategically place your Google display ads on a network of relevant sites across the web. Google says their Display Network reaches more than 90% of internet users worldwide. It spans across 2 million sites!
Can you afford to ignore that audience?
BOOK A FREE STRATEGY SESSION
Measurable Results Through a Transparent Relationship.
The best part about a digital campaign is being able to see it work.
Whenever we partner with a business to manage their GDN, we offer transparent services and honest information from that very first phone call.
You can measure the results from your campaign in Google Ads and watch us blow your goals out of the water. Through clear reporting, you'll gain full access to the ads that are getting the best results, your cost-per-click and conversion rate improvement.
If you're not happy with the results you're seeing, we can use this data to tweak your campaign.
We'll allocate your budget to achieve the best ROI possible and get you more customers.
GET A FREE QUOTE
Turn Passive Browsers into Active Customers.
Though Google banner ads are littered around the web to catch the eyes of passive users, there are intricate ways to optimize them and gain active buyers.
While users aren't in the "ready to buy" phase (they may not even be in the "ready to shop" phase!) don't let that put you off GDN advertising. Our Google Ads gurus at Impressive know their way around the platform to the finest detail.
We've learned from experience what works and what doesn't.
Through the powers of remarketing, managing placements, creating multi-format, engaging ads and giving daily nurturing to your campaign, you'll be amazed at just how much your reach could expand.
GET A FREE QUOTE
Reap the Benefits of Google Display Advertising.
Let your competitors continue to snuff at the more "passive" nature of Google Display Advertising. Meanwhile, you can storm ahead with optimal Google Display ads that bring in the big bucks for your brand.
Tools like Google AdSense, and a smarter strategy, keep your ads relevant. So, if you sell gourmet cake toppings, your ad might be displayed on a blog post explaining how to create awesome cake designs.
The user wasn't originally in the buying phase, but as soon as they are, they'll think of your brand first.
Have a chat with an Impressive strategist. We can offer a FREE 30-minute analysis of your current digital advertising strategy and show you how to improve it.
GET A FREE QUOTE
Essential PPC services for eCommerce growth
Make the most of the platforms designed for eCommerce growth. We'll focus your marketing on the channels most effective for your brand to generate maximum conversions and boost revenue.
Book your free strategy session
Any questions
Google Display Network FAQs
The GDN shows your ads on websites in the form of banner ads, image ads and occasionally, responsive ads. Responsive ads are automatically adjusted to fit the theme and space of the website they're placed on. Google lets you manage, target and budget for your ads within the tool. If you're new to all of this, we recommend getting help from an expert to get the most out of your advertising spend.
In the past, tracking impressions or views of an ad was unattainable data – it left a gap in reporting. GDN integrates with Google Analytics to bring Impression Reporting to marketers. Now, when a user views your display ads and then later visits your site, this can be tracked. So, you can see how effective your Google display advertising is.
The Display Network works across more than 2 million websites worldwide. This comprises desktop sites, mobile sites and apps. Where your ad is displayed depends on the targeting options you select, so Google can try to get the context right for your campaign.
Google doesn't like to reward sites that exist solely to serve ads or offer no original content. If you run an affiliate program but also offer value and unique content on your site, you can make use of the GDN and remarketing without problems. That said, if you don't make a lot of commission on your affiliate programme, you might want to use a form of advertising that will bring a greater ROI for your industry.
Like most digital strategies, there's no set answer to the cost of GDN. On average, the CPC for the Display Network is around $1 USD. Have a quick chat with us at Impressive to find out about costs for your unique campaign, and the kind of ROI you can expect.
You can choose whether to manually set up your display campaign, or have Google use their own tools to create the campaign they think best suits your objectives. There are multiple steps to follow if you would prefer to set this up manually, so check this guide by Klient Boost for more information.
Responsive display ads fit into whatever ad space is available, as they can transform themselves to fit where it has to go. Banner ads are found across the top of a webpage, whereas vertical skyscraper ads can be seen on the side of a page.
All businesses can choose to be on the GDN. However, we recommend only running this campaign if you're not also running a Search campaign. Google doesn't recommend over-layering, and this can eat into your advertising budget, without getting you the conversions you want.
LET'S GET STARTED
WE'RE NOT JUST A DIGITAL SERVICE PROVIDER – WE'RE YOUR PARTNER IN PERFORMANCE
Here's how we'll invest in you: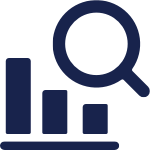 A comprehensive audit
We'll review all of your digital marketing channels and outline what's working, and what needs to be improved.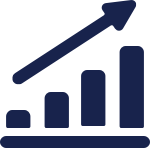 Unique growth strategy
We'll share our approach, covering how we'd scale your marketing – and how it relates to your objectives.

ROI projections
We'll forecast the results you can expect, as well as your investment and the KPIs involved to get you there.