SEARCH EXPERIENCES THAT ENGAGE
Tap into an untouched consumer base and unlock new opportunities.
MAXIMIZE EVERY PERFORMANCE-DRIVING OPPORTUNITY
Microsoft Advertising (formerly known as Bing Ads) connects businesses with prospects that aren't already being drowned in sales messages. Maximize every possible revenue avenue by tapping into the Microsoft Search Network to reach new customers – and only pay for the ones that complete a relevant goal. Your paid media campaign should integrate high-performing channels so you can engage the right target audience, in the right place and at the right time.
With lower cost-per-clicks and a higher potential ROI, it's time for your marketing team to turn its attention to Microsoft Ads. Lock Impressive into your organization's structure and our team of paid media specialists and data strategists will execute a smart campaign, designed to reach more valuable audiences and scale as your organization grows.
GET A FREE QUOTE
AN ESSENTIAL PIECE OF YOUR ADVERTISING PUZZLE
CEOs, marketing managers and other decision makers in every organization are constantly faced with the task of expanding their reach, without wasting budget in areas that won't deliver a high return. We execute your highly-competitive Microsoft Advertising campaign as part of a wider, omnichannel strategy that encompasses the high-performing channels relevant to your goals. So, we're able to sync and streamline Microsoft Ads with Google Ads, landing pages, social media and other digital avenues.
Managed in-house by our specialists and optimized in real-time, your Microsoft Ads strategy will be treated as a single entity with its own data and best-practices, but will become an integrated piece of your overall digital campaign. Discover new opportunities by connecting with customers across the sites, apps and devices they use every day, during the most meaningful moments.
BOOK A FREE STRATEGY SESSION
Business growth empowered by paid strategies
Partnering with Impressive means merging with a team of experts that are obsessed with your organization's growth. Our in-house PPC specialists have combined years of experience in building and optimizing campaigns, allocating your budget and tweaking your ads so they're tightly aligned with your short and long-term objectives – activating instant sales and accelerating success.
We don't offer one-off "solutions", but we become more like an additional member of your team. So, you'll have people focusing on your Microsoft Advertising strategy, who work with other dedicated specialists as one unit that's propelled by your performance. Book a free strategy session to find out more about our custom approaches.
GET A FREE QUOTE
Integrated paid search services that are proven for success
Achieve success via a wider PPC strategy that encompasses all effective channels, for a digital presence that delivers a streamlined buyer journey to turn intent into action and accelerate sales.
Book your free strategy session
Any questions
Microsoft Advertising FAQs
Bing ads provides a service to marketers and businesses looking for PPC advertising, on both the Bing and Yahoo! Search engines. Though Bing services a smaller audience than Google, it still takes a substantial share of the internet. Bing pay-per-click runs in a similar way to Google Ads.
There's no doubt that Bing is Google's underdog, but it's seeing an ongoing growth of the search market share. It's worth allocating a part of your advertising budget to Bing PPC, because you can enjoy a better return on your investment. Bing ads are cheaper and actually get a higher CTR than Google, which could be due to their ad placement.
Bing search marketing comes in at a lower price compared to Google Ads (in fact, CPC can be up to 70% lower than Google Ads). There's less competition for keywords and you can receive a better ROI. The costs vary depending on your chosen bid, CTR and competition.
The Bing Ads structure is very similar to Google Ads structure. They rely on keywords and an auction process. You create your ads based on specific keywords and then select the amount you want to pay for those keywords. Then, you pay each time a user clicks your ad and goes through to your site.
LET'S GET STARTED
WE'RE NOT JUST A DIGITAL SERVICE PROVIDER – WE'RE YOUR PARTNER IN PERFORMANCE
Here's how we'll invest in you: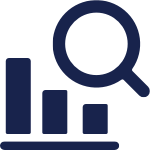 A comprehensive audit
We'll review all of your digital marketing channels and outline what's working, and what needs to be improved.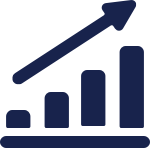 Unique growth strategy
We'll share our approach, covering how we'd scale your marketing – and how it relates to your objectives.

ROI projections
We'll forecast the results you can expect, as well as your investment and the KPIs involved to get you there.